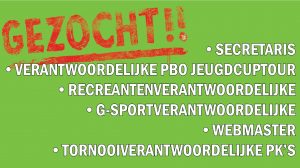 Tom Roelants verlaat op het einde van dit seizoen PBO vzw als bestuurder. Hierdoor komt een groot takenpakket vrij en de Raad van Bestuur van PBO vzw is bijgevolg op zoek naar meerdere medewerkers.
Alle openstaande vacatures kan je terugvinden op onze vacaturepagina of rechtstreeks via deze link.
Vragen over de openstaande vacatures of kandidaturen mag je mailen naar dit mailadres.